For the contemporary adult
It is absolutely by architects, visual artists and sculptors. It has its own rhythm and aims at a very defined target. Because the certain thing is that the boutique offer that makes the Hotel Cirilo Armstrong is the location, almost hanging from the ravine, where cats pass by and the locals sunbathe in their pajamas. All very Valpo. All very familiar. Joaquín Velasco and his wife Elisa Assler, returned from Barcelona and there was this refined, integrating architectural concept and doing a job is distinguished from the rest by offering 11 apartments that even passengers occupy for months "the audience that comes is very varied, explains Joaquin, from people who spend the night to others who come to work: filmmakers, journalists, who stay for weeks and even a month. "
"For the contemporary adult" Placeres Magazine, 2010.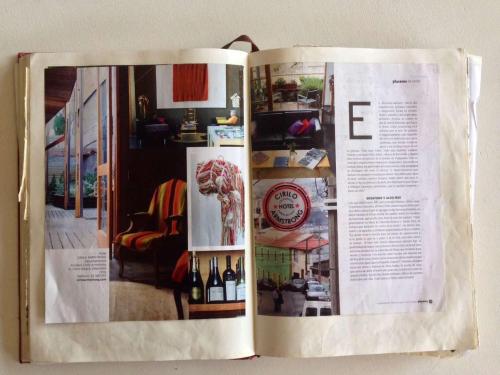 BREAKFAST AND SOMETHING ELSE With a very good room for intimate events, there is a cultural offer that is grouped in the Porteñas Sessions, the best example is the last recital by Laetitia Sadier, former vocalist of Stereolab, the album Pascuala Ilabaca and Jaime Frez also presented their work. they did back from India. "There is also theater and well-closed culinary activities are scheduled." People come and install their operations center here and if they like what is going to happen or if they have heard before, they add up . While we only give breakfasts there is always the possibility of having a beer or uncorking a good wine while you can see the collection of books that we have to sell and show. With gems like those left us by the Royal de Luxe, books with models of the dolls that build like the Little Giant. "In addition there are always the works and objects of Elisa Assler, the owner of the house, who before opening the Hotel only put one condition: to have its own showcase, in it there are from ties to story books illustrated by her, all unique and beautiful as the hotel. By Patricio Rojas, photograph by Daniel Ojeda.